Hashimoto has retained the world title, Curtis 2nd in nail biting finish! 1st time a reigning champ has retained the title, 3rd time Hirobo has won title. Mark Christy 10th, Scott Gray (Canada) 11th.

The 8th F3C World Championships are now over. Manabu Hashimoto has won, or rather Curtis might have lost it (!)
The last round was a strange one. Curtis needed to win it to take the Championship. It ended up being won by Rudiger Feil (German), with Sensui 2nd, Hashimoto 3rd and Curtis 4th. Curtis made a visible error during the 540+ half roll, and it cost him the championship.

Hoenle had a plug blow in the middle of his aeros, and autorotated safely, but out of the contest. Mark Christy (GB) took 7th place in the last round, beating both Dwight Shilling AND Kunii of Japan, but it was too late to affect his overall position.
Scott Gray closed the gap right up in the last round, but blew his auto, which kept him behind Mark Christy.

Final results are:
1 Hashimoto Jap 2995.1
2 Youngblood USA 2980.2
3 Sensui Japan 2968.1
4 Feil Germany 2941.4
5 Mann USA 2935.1
6 Kobayashi Japan 2876.6
7 Kunii Japan 2819.5
8 Hoenle Germany 2788.9
9 Shilling USA 2715.2
10 Christy UK 2681.4
11 Gray Canada 2615.6
12 Roessner Germany 2542.3
13 Kastiel Israel 2540.5
14 Lombard France 2526.6
15 Lien Chinese Taipei 2478.4

Teams:
1 USA 8719.89
2 Japan 8609.63
3 Germany 8402.15
4 UK 7656.65
5 Swiss 7596.15

Juniors (under 19):
1 Valdeolmos (Spain) 2259.03
2 Hayun (Isr) 2233.35
3 Mutovaara (Fin) 2124.43
4 Levy (Isr) 1888.91

Of the 74 competitors who flew, 23 were flying Hirobo Eagles, including the whole Finnish team! Thats nearly 1/3rd of the whole entry! Statisticians will also want to note that there were 3 Eagles in the top ten......! That's nearly 1/3rd of the top ten......!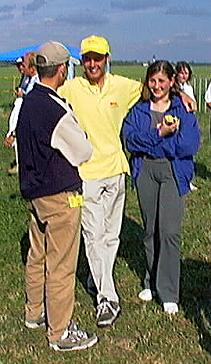 Mark with his lady friend, and
honorary team member, Anna.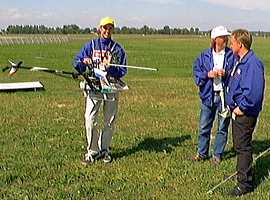 Mark Christy, after last flight, with Gavin Duke (Team Manager) and Ali Newman (caller).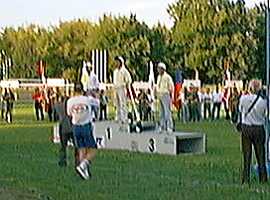 The Individual Winners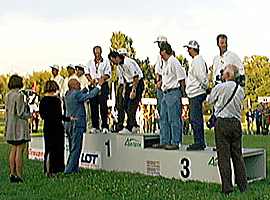 The Team Winners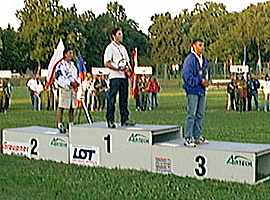 The Juniors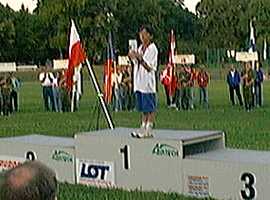 11 year old Aviv Levy of Israel receiving a
special award as the youngest pilot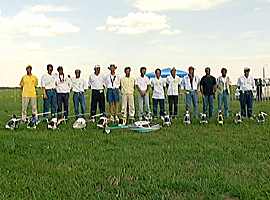 The 15 finalists (well 14, Scott Gray disappeared!)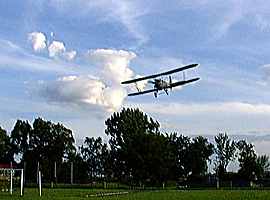 A mad pilot flying a vintage biplane, who
did some low passes during the closing
ceremony, and I mean LOW!