3d Heli Masters World, Air RC Heli Competition and Zone Format Competitions, three exciting 3d Championships, and all are very well supported by manufacturers, pilots and spectators alike. For further details checkout 3d Heli Masters World Competitions, AIR RC Heli Competition and Zone Format 3d World Competitions.
Exciting times for RC Model Helicopter and 3d Flying. I hope to be covering some of these events in the future, using my own unique photography style to capture the atmosphere.
Over 20 years of 3d Flying
Since my first loop and rolls back in 1994, and then later that year my first attempts at Pirouetting Flips done with a Mechanical (non-heading hold) Gyro.
Looking back to the early 3d competitions in the late 1990's, such as the Potting Cup, the first 3d Masters in 2002, it's amazing how much this side of the hobby has grown, with multiple top level 3d competitions each year across the world.
A old flying buddy recently showed me an early photograph I took of Curtis Youngblood (The Godfather of 3d) flying at Sandown Model Show back in 1995, I hope to put a set of these pictures on the site soon. One should also mention Mike Mas, the Pioneer of Switchless Inverted and Founder of Rotary Magazine (along with James Wang). Also great to see Robert Gorham flying again with his Uber Smooth Style, I fondly remember seeing him fly back in the late 1980's and early 1990's and the family business GMP, started by John Gorham.
European F3C Championships, whilst the server is down, my photographs of this are not availanle. I hope to soon combine these site together - my 3d and F3C sites, it's taken time to adapt the page formats. Thisincludes all the top 10 pilots, with special Hirobo gallery and champion gallery. See 3d Masters for example of my lifestyle helicopter photography.
3d Masters 2005 . . .
I was unable to compete due to medical and time/business reasons, as I'd been preparing for in 2003 and 2005. But the diary of preparation was still available to read on www.funky3d.com - and whilst it's some 10 years later, I look forward to expanding on this soon, with an update as to how things have changed in the last decase.
3d Masters 2004 . . .
Even better than the year before. The overall flying standard definately went up a couple of notches at 3d Masters. Pictures could be seen at RotorWorld Magazine, on the Official DVD, and on my websites. Prints are available for top three pilots in each category free of charge. For the other pilots, high resolution files can be supplied free of charge.are coming shortly.
3d Masters 2003
What a weekend. The competition flights were spectacular, but the evening demo's with night flying and a threesome were something else to behold. See some great pictures of the 3d Masters 2003 here. .

Learning to Fly RC Helicopters
Our learn to fly section is in need of an update, to reclect the changes in learning styles and models. With trainer under carriages a thing of the past, and Flybarless Controllers dominating over more traditional fly bar models, it's time to rewrite the learning to fly articles to reflect the different methods. With more steps beings added. Now includes the learn to 3d guide. Also we are starting a list of World Wide RC Training Schools, if you wish to be included please send us your details.
Check-out
The top areas of the site currently are; F3C, 3D, Hampshire Clubs, Learn to fly and Raptor (under helicopters). With previews reviews now restricted to magazine back issues - Raptor V2 review, Robbe Cuatro, Webra 91 AAR, Futaba FF9c and Futaba 9ZHP reviews. And the new Sceadu 50 3d, awesome RC Helicopter.
F3C World Championships
Our original site, showing the full history of the Radio Control Model Helicopter F3C World Championships is now hosted within a section of rc-heli.com. You can use the F3C link on the menu. The history section and go back in time to 1999 F3C Coverage section, well worth reading. Also the 1985 F3C Worlds History Review, with Mr. Shigetada Taya winning, whom later went on to design the Kyosho Concept, Space Baron and Raptor.
Rator 30 USA Canopy
Do check out the Raptor link, it's got a shot of a USA colour scheme - with details of supplier and pricing information. Darren, a local modeller supplied the picture, he was more than happy with the result. He'd only had the Raptor a few weeks (bought the Monday after 3d Masters) - it must have inspired him ;-)
It's all done a little differently today, with amazing painted canopies.
Hampshire Helicopter Pilots
I am always happy to help with setup or flying questions localy, and am active around Basingstoke, Beaulieu, Southampton and Fareham regions, flying from various sites.
Link to RC-Heli.com
We welcome other sites linking to us, to make it easier we have a page with dedicated graphics and text. If copied they will link back to images on our site, which we will always maintain with the same name and size, although our logo is evolving in the hands of an artisit.
Site Navigation Tip
Use the darker links on the left hand menu to access the newest content.
Medical News - update
Unfortunately Ulnar Nerve Surgery is not the operation I would recommend. This coincided with starting my own photography business in September 2003 - which was also hindered with a 6+ year claim on a new home warranty which caused unexpected difficulties along with the problem operations.
At least the photography is fun, all outdoors or clients own spaces. The ulnar nerve in my left arm, has not been the same since my operation, but I'm better at working around it. Turned out the consultant got it wrong, both for the operation and other advice given. At least I found the answers in the end, but sadly on after further detirioration. The arm does look a lot better now :)
The 'other' site is up and running. Later on in the year, probably before the 3d Masters, the third site will open - to complete the trilogy.

The learn to 3d article is online. A new learning to fly section will be coming to address the new trend of learning with Flybarless Rotor Heads and 3 Axis Gyros. Many of these sytems advice against using training gear which brings some interesting issues to be aware of.
Keep the emails coming with further suggestions for the sites. We also welcome content, reviews, information, tips, events, clubs etc.
Note from the editor . . .
www.RC-Heli.com became a new website (opened 30/07/02), dedicated to Radio Control Model Helicopter flying and all things associated. The big buzz word at the time was 3d, a new one seemed to be coming, Artistic Aerobatics. However ever with Flybarless Rotor Heads, 3 Axis Gyros, and Smack 3d things have move ahead rapidly in the last decade, blitzing the changes of the prior decade, you will be seeing and hearing a lot more about this, with rc-heli.com planning extensive new articles. Artisitic Aerobatics was expected to get the type of media coverage the x-games have grabbed over the last 5 years. Any one who read my July 1999 AHA Newletter will know how impressed I was with the x-games format. These are indeed exciting times for both the hobby and rc-heli.com. However Smack 3d has taken things to a whole new level, with 3d Heli Masters World Competitions and Zone Format 3d World Competitions dominating in 2012 and 2013.
Anyone interested in contributing, is welcome to contact me - full credit will be given. I'll even offer you your own email address at rc-heli.com, which will forward to an account of your choice. I would particularly welcome reviews, scale information, as well as building tips through to events, clubs and latest projects.
You can contact me at info@rc-heli.com - I look forward to hearing from you. Feel free to email me any questions you may have, whether about the site or hobby in general. Remember don't be shy, your input helps - good or bad, I'd like to hear your comments.

---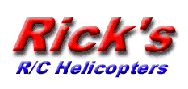 To avoid confusion, rc-heli.com is a unrelated site to Rick's RC - we merely share similar url's. And in case you're looking for a hobby store in USA, here's a link to Rick's.
For UK Hobby Stores check out the recommended section on this site. Others to try include Hobby Stores in Southampton, Fareham Models, Skyline Models, Midland Helicopers, Fast Lad Performance, Mainly Trains and Planes in Chandlers Ford. Also checkout the Ripmax website, as it has a list of UK Hobby Dealers.
Two Wheels, Bike Tour
I thought I'd put some pictures up of my bike tour across Spain and France. Two of us rode from Bilbao down to Gibralter. Their is also a link to two others tours, one was a group of 13 bikes using bike to bike radios.
Helicopter Flying School and New Forest Wedding Cakes at http://www.HelicopterFlyingSchool.com
Lifestyle Art Photography & Wedding Cakes at http://www.Lifestyle-Art.com
Lifestlye Photography & Wedding Cakes at http://www.Lifestyle-Photography.com
Wedding Day Dreams, for planning your Special Day at http://www.Wedding-Day-Dreams.com
Winchester Wedding Cakes covering the New Forest, please visit http://www.WinchesterWeddingCakes.com
The Winchester Cake Company, in The New Forest, Hampshire, please visit http://www.TheWinchesterCakeCompany.com